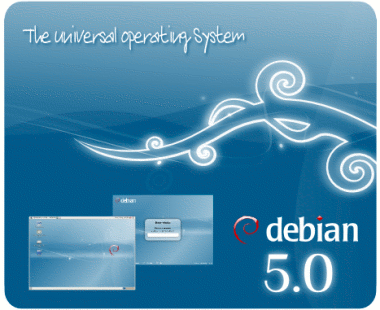 Έτοιμο!
Release Announcement
Release Notes
Installation instructions
Download
(Προτιμήστε torrents...)
Και η
ανακοίνωση απο το distrowatch
:
Big day for the Debian fans - Debian GNU/Linux 5.0 "Lenny" has been released: "The Debian Project is pleased to announce the official release of Debian GNU/Linux version 5.0 (code-named 'Lenny') after 22 months of constant development. Debian GNU/Linux is a free operating system which supports a total of twelve processor architectures and includes the KDE, GNOME, Xfce, and LXDE desktop environments. It also features compatibility with the FHS v2.3 and software developed for version 3.2 of the LSB. This release includes numerous updated software packages, such as the K Desktop Environment 3.5.10, an updated version of the GNOME desktop environment 2.22.2, the Xfce 4.4.2 desktop environment, LXDE 0.3.2.1, the GNUstep desktop 7.3, X.Org 7.3, OpenOffice.org 2.4.1, GIMP 2.4.7, Iceweasel 3.0.6...." See the release announcement and release notes for a detailed description of the release. As usual, a wide variety of installation media is available for free download from the project's mirror sites. For new installations, the live CD method of installing the distribution is probably the easiest; get the GNOME or KDE live CD for i386 and x86_64 architectures from here: debian-live-500-i386-gnome-desktop.iso (691MB, MD5, torrent), debian-live-500-i386-kde-desktop.iso (661MB, MD5, torrent), debian-live-500-amd64-gnome-desktop.iso (682MB, MD5, torrent), debian-live-500-amd64-kde-desktop.iso (681MB, MD5, torrent).